Game Of Thrones
Game of Thrones Birthday Cake.
Click on the images below for a larger view.
SKU: [ bir-343 ] Cake sizes available(10 inch)
Approx Portions (40)
Available in a range of sizes and flavours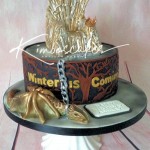 Game Of Thrones Custom Made Birthday Cake
.
This is one of many styles that we make for our customers. Everything about the cake is designed/decorated and crafted by hand. As an
Artisan Baker 
every cake we make is made the traditional way. Using only fresh ingredients, you can be assured there are no long life preservatives or additives in our cakes.
The swords on the
Iron Throne
are all made individually and then added to the throne. On the left arm of the throne we have placed a small golden crown. Leading down from the throne is a hand made chain attached to the collar of one of the dragons. The
Game of Thrones 
series by HBO is based on the first novel, A Song of Ice and Fire, a series of fantasy novels by American author George R. R. Martin.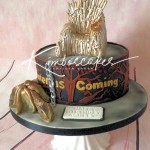 This particular
Game of Thrones
cake is designed with
The Iron Throne
from
Kings Landing,
together with one of Daenerys dragons. Daenerys lives in exile and is of the
House Targaryen
.
The side of the cake is decorated with Trees to resemble Winterfell. House of Stark are the rulers of the north and this is their domain. Currently the King of The North is the proclaimed Jon Snow. He has currently sworn allegiance to Daenerys in the latest series. Hence the decoration of the cake being as it is. Queen Daenerys Targaryen is the daughter of the slain King Aerys and is also rumored to be the Paternal Aunt of Jon Snow.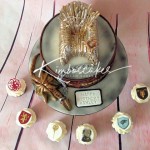 We have also supplied seven of our popular cup cakes with this cake. Each of the cup cakes is topped with buttercream. Placed on top of these are the
Coat of Arms
depicting the
Seven Kingdoms
.
If you wish to order this cake and would like the design changed to suit your favourite house, then, please let us know. We have a slideshow of this cake with some slight changes. This can be found by clicking here. This cake is also available in a wide range of flavours. It can also be requested in a larger size.
Game Of Thrones Custom Birthday Cake
Please note decorations may vary slightly as each cake is baked individually.
Price for this cake (As in image) £80.00 (Other Sizes Available On Request)
Use the form below to order online, or if you prefer speak to or email us direct.
Game of Thrones Cake
More about our cakes
If you have a particular design you would like for your wedding cake, then please feel free to contact me to discuss your requirements. Large or small, every wedding cake is made with the utmost care and presentation. With over 40 cake flavours to choose from, you will be spoilt for choice. All of our cakes are baked and decorated less then 48 hours prior to delivery and set up. We bake our cakes the traditional way from scratch, using only fresh ingredients. We provide samples at all of our consultations on request. Take a look at our Game Of Thrones Cake In A Slideshow

Our cake flavours
Most of our flavours can be baked into all of our cakes, including Gluten Free, Dairy Free, Egg Free and Halal. Have you ever tried a cake sample that seems crumbly and dry. Then come and taste our cakes. We do not use additives / flavours or long life sponges or mixes. We pride ourselves in providing all of our customers with real home made cakes. Take a look at our unique Peacock Wedding Cake here