Cornelli Wedding Cake
SKU: [ wed-297 ]
Cake sizes used 10 inch, 8 inch, 6 inch and 4 inch
Approx portions 110
All flavours available
Effective design low cost 4 tier cornelli wedding cake. The cake is set on a 12 inch pre iced cake board. The base and third tier have been decorated with a hand piped cornelli design, while the second and top tier are again left plain. Around the second and top tier we have placed a diamante chain at the base. Hand made moth orchids are placed on the corners of the cake and also used as the topper. You can choose whatever flowers you wish to suit your requirements and we will make them to order by hand.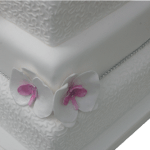 Choose different colours for the cornelli design and / or a different style. You can also have any flavour of our unique sponge cakes on any of the tiers at no extra charge. An ideal choice of wedding cake for the bride and groom who want to keep things simple but beautiful. This 4 tier wedding cake can be increased in the amount of tiers or reduced according to your needs.
We can also do other types of cornelli design for you.
If you have a different design that you would like us to pipe onto your wedding cake, then let us jnow and we will do our best to replicate it for you.
Delivery and set up of this and all other wedding cakes is of course free within the immediate areas of Derby and Nottingham. We deliver all of our cakes in person all over the country for a small charge to cover fuel.
Please note decorations may vary slightly as each cake is baked individually.
Price for this cake (As in image) £395.00
Use the form below to order online, or if you prefer speak to or email us direct.