Coca Cola Novelty Birthday Cake
SKU: [ bir-299 ] Cake sizes used (As in picture) 3 x 6 inch round and 1 x 6 inch oblong
Most cake flavours and types available
Approx portions (As in picture) 25+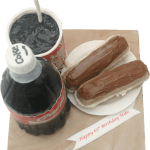 Bespoke style Coca Cola novelty birthday cake. Everything you see is made of cake and is totally edible including the plate which is made of icing. The eclairs have been made from cake and are filled with butter cream and a rich Belgian chocolate ganache to give the effect of a real chocolate eclair.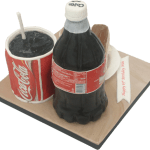 The Coca Cola style cup and bottle have also been made from cake and decorated to look like a paper Coca Cola cup and 1.5 litre bottle of Coca Cola. The cakes have been laid on a prec iced cake board which has been made to look like a table top surface. This bespoke birthday cake can be made from both of our Victoria sponge or Madeira cakes and are available with most of our unique cake flavours.
This mouth watering looking birthday cake has FREE delivery within the immediate area of Derby or Nottingham. Other areas will incur a small delivery charge. An ideal surprise birthday cake for the Coke fan out there.
We also make other bespoke brand name cakes like McDonalds and other famous names. Fill in our contact form from the link above and tell us what you would like making as a custom cake. Our cakes range from the basic all the way up to complicated 3d bespoke custom made cakes.
All of our cakes are made carved and decorated within 48 hours of delivery. We also deliver all of our cakes in person all over the UK for a nominal delivery charge.
Please note decorations may vary slightly as each cake is baked individually.
Price for this cake (As in image) £75.00
Use the form below to order online, or if you prefer speak to or email us direct.