Autumn Swirl Wedding Cake
SKU: [ wed-296 ] Cake sizes used 12 inch, 10 inch, 8 inch and 6 inch
Approx portions (As in picture) 130 +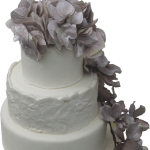 An elegant autumn swirl of leaves wraps around this lovely 4 tier wedding cake. Set on a 14 inch cake board, this cake is an effective display of (Less is more). Every tier of this cake can be a different flavour, and our full list of unique cake flavours is available.
The top tier and third tier down of this autumn swirl design are left plain, whilst the second tier down and the base tier are wrapped with lace effect icing. If you are having a lace dress on your wedding day we can incorporate this onto the design for you. Or if you prefer you can choose a different design to wrap around the tiers. An elegant low cost four tier wedding cake. The cake is available in a wide range of colours and this can all be adjusted to suit your theme.
If you would like a different version of this autumn swirl cake in other colours or style of leaves with an autumn feel, then please let us know. We will be happy to accommodate you. If you have a lace design on your wedding dress we can also incorporate this onto the cake and replace the existing design. At Kimboscakes we say what you can have and not what you cannot have on your wedding cake. We always ensure that both the bride and groom get the design they are looking for on their unique wedding cake
This autumn swirl wedding cake can have your choice of false, real or iced flowers cascading around it.
Please note decorations may vary slightly as each cake is baked individually.
Price for this cake (As in image) £395.00
Use the form below to order online, or if you prefer speak to or email us direct.