Jack Wills carrier bag cake
SKU: [ bir-246 ] Cake size used (10″)
Approx finished size (8″x7″x4″)
Approx portions (25-30)
Jack wills carrier. Another one of our fashion icon type bags. A smaller version of our original Jack Wills Carrier Bag Cake. The larger version can be found by clicking here. When asked if we could downsize our original version of the Jack Wills cake, we were happy to oblige.
Made from our own recipe for a Belgian chocolate cake and coated in a soft Belgian chocolate ganashe. The downsized version was also a pleasure to make. At Kimboscakes we love to to 3d, carved, original and unique cakes. We will put our hand to most shapes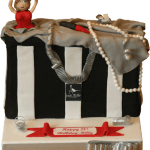 and styles of cakes. All of our cakes are made individually by hand without using pre-shaped tins.  We think it has more of a personal touch. As we bake all of our own cakes fresh to order, we make them with different recipes to suit the job requested.
The jack wills logo on this cake is actually an edible print but we will also do this by hand from flower paste on request. This cake is available in a full range of sizes, styles and colours to suit.
For more information on this cake and different prices and sizes, please use the contact form from the menu above. Search our site for other fashion bags such as Louis Vuitton, Next, Radley. If the style or bag you would like is not on our site, we may have already made one but not uploaded it. Drop us an email and let us know your favourite style of bag.
Please note decorations may vary slightly as each cake is baked individually.
Price for this cake (As in image) £75.00
Use the form below to order online, or if you prefer speak to or email us direct.